Welcome to the Thieme WebCheminar series in 2023!
A series of mini-symposia on selected topics in organic chemistry. Each WebCheminar will be themed around research topics featured in Thieme Chemistry products such as the journals SYNTHESIS, SYNLETT, Organic Materials, SynOpen, Synfacts and the reference work Science of Synthesis. Renowned experts in their field will present their recent research findings, and the sessions will offer time for a Q&A session. The talks will be of interest to all organic chemistry students, graduates, and researchers in industry and academia from all over the world. Join us and participate in the Thieme WebCheminar series.
Next WebCheminar starts in
Perspectives on AI/ML in Chemistry from Academia and Industry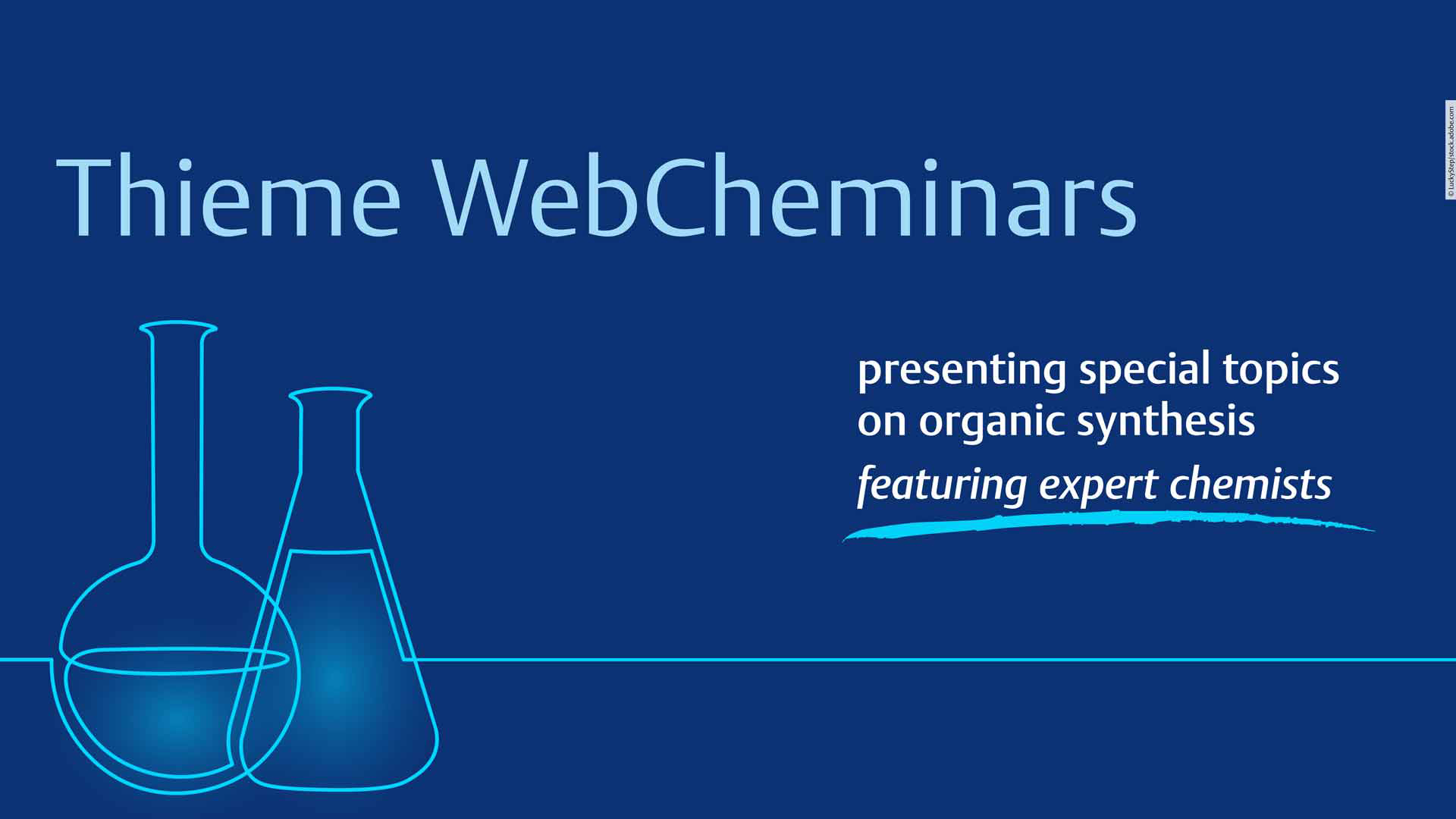 Rising Stars in Organic Synthesis – presented by Science of Synthesis and SYNTHESIS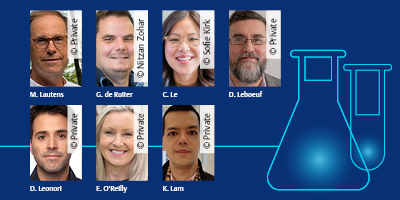 Rising stars of organic synthesis – the screen is yours! A WebCheminar hosting six selected SOS ECAB Members from around the globe, chaired by SYNTHESIS Editor-in-Chief Mark Lautens.
26th January 2023
Are you interested in future Thieme WebCheminars?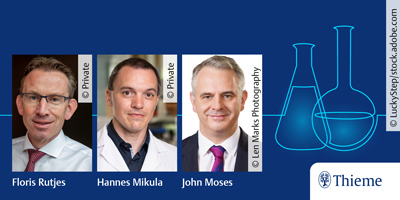 Click Chemistry
Click and bioorthogonal chemistry – recent progress presented by Hannes Mikula (Austria) and John Moses (USA) (Chair: Floris Rutjes (The Netherlands))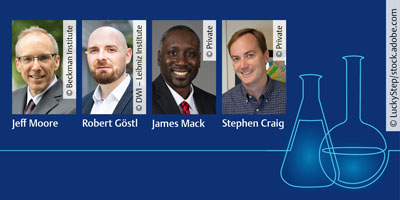 Mechanochemistry
Current development of a century-old discipline presented by James Mack (USA), Stephen Craig (USA), Robert Göstl (Germany) and their group members (Chair: Jeff Moore (USA)).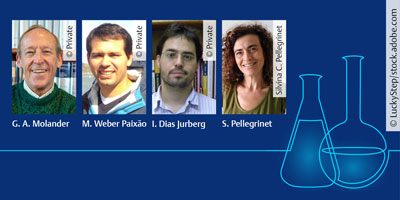 Organic Synthesis in Latin America
Let's celebrate organic synthesis in Latin America together with Silvina Pellegrinet (Argentina), Marcio Weber Paixão (Brazil), and Igor Jurberg (Brazil). Chaired by Gary A. Molander.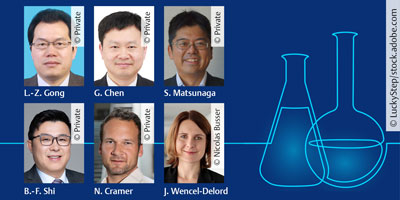 Asymmetric-C–H Functionalization
One of the most active areas of chemical research. Presented by Joanna Wencel-Delord (France), Shigeki Matsunaga (Japan), Nicolai Cramer (Switzerland), and Bing-Feng Shi (China). Chaired by Liu-Zhu Gong and Gong Chen (China).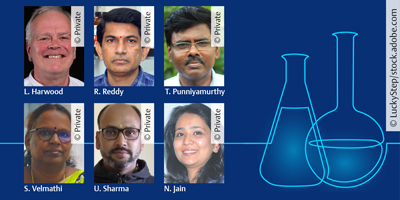 Innovation in Organic Synthesis in India
Presented by Sivan Velmathi, Upendra Sharma, and Nidhi Jain (India). Chaired by Laurence Harwood (UK), Raji Reddy and Tharmalingam Punniyamurthy (India).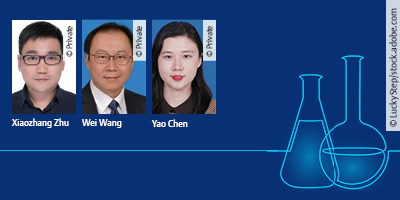 Covalent Organic Frameworks
An in-depth view on linkage and host-guest chemistry as well as industrial applications of COFs – presented by Wei Wang and Yao Chen (China). Chaired by Xiaozhang Zhu (China).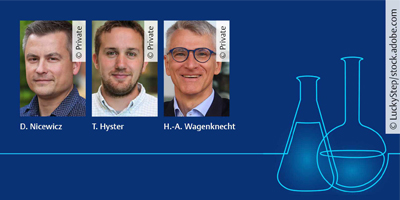 Organic Photoredox Catalysis
Discover the potential of organic photoredox catalysis in synthesis in our next Thieme WebCheminar with Hans-Achim Wagenknecht (Germany) and Todd Hyster (USA) feat. their post-docs and PhDs.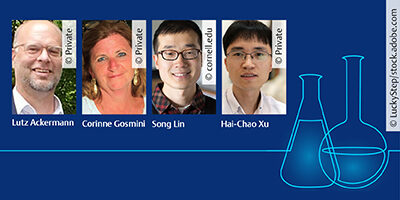 Electrochemistry
Explore the Power of Electrochemistry in Organic Synthesis – presented by Corinne Gosmini (France), Song Lin (USA) and Hai-Chao Xu (China). Chaired by SoS Volume Editor Lutz Ackermann (Germany).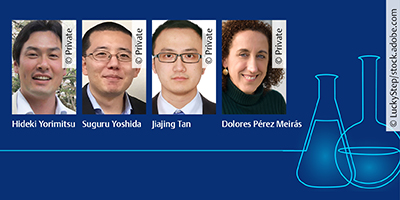 Aryne Chemistry in Synthesis
Discover current research applications in aryne chemistry in synthesis – presented by Suguru Yoshida (Japan), Jiajing Tan (China) and Dolores Pérez (Spain). Q&A included! Chaired by SYNTHESIS Editor Hideki Yorimitsu (Japan) and co-chair Suguru Yoshida.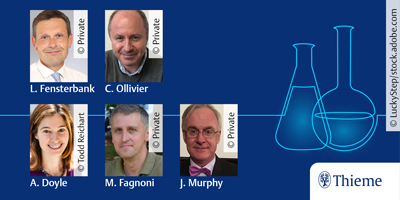 Radical Chemistry in Organic Synthesis
Discover the potential of radical chemistry – presented by Abigail Doyle (USA), Maurizio Fagnoni (Italy) and John Murphy (UK). Q&A included! Chaired by SOS Volume Editors Louis Fensterbank and Cyril Ollivier (France).